Beautiful film. That would be the best way to describe My Octopus Teacher. This documentary makes you want to go jump into the ocean. It's Beautifully shot, but what really did it for me was the sound mixing. You could hear the crab legs scraping across the rocks. You could hear the swishing of the fish moving through the water. You could get a real sense of what it would be like to live in this kelp forest. I could dream peacefully to the sounds of this film.
You can't help but constantly think about this film because of how it invites you into this exotic world. Craig Foster is living a life that I've dreamed about for years. No wonder this life style cured his depression. Maybe it's that underwater theme that gets me so excited about this film. I love to sit and listen to the soundtrack from Finding Nemo because it brings me joy to think about those underwater adventures. It's probably not far fetched to think that I'd live in the ocean if I could. It's both a scary and beautiful place.
My Octopus Teacher is about filmmaker Craig Foster forging an unusual friendship with an octopus that he finds living in a South African kelp forest. He spends a year watching and learning about this animal's peculiar ways as the animal shares the mysteries of her world and opens Craig's eyes to knowledge he couldn't even dream of. Hence the title. Craig visited her everyday that year, never missing a moment. Was this just dedication to science or a driven desire to continue this particular relationship?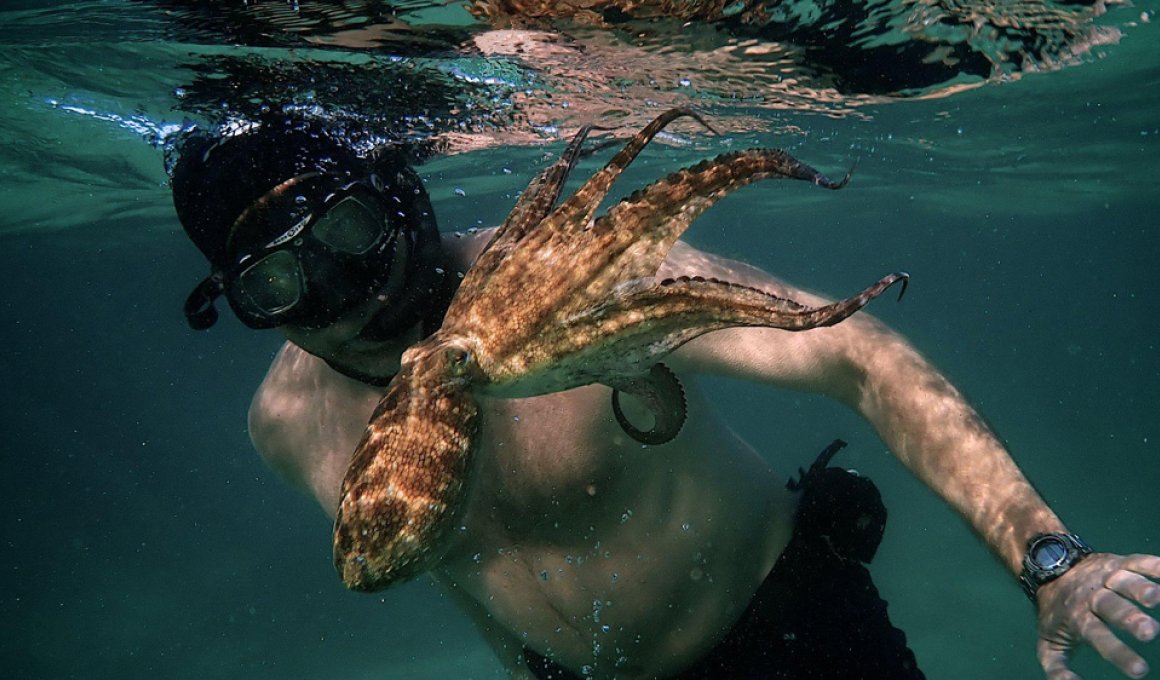 What makes this film stand apart is that it's not just a typical Natural Geographic story on some animal. It's the story of this particular animal's life. How she hunts for exotic food in creative ways. How she runs and defends herself from predator's in the most unusual, but intelligent fight or flight actions. How she struggles when she must recover from an injury. Furthermore, it's about this animal's childlike connection with Craig and how Craig must fight the urge to interrupt the natural ecosystem of the kelp forest in order to protect her.
The film's cinematic shots as well as those with Craig in them were shot by Roger Horrocks, with his RED Dragon in a waterproof housing, and Pippa Ehrlich who ended up directing the film and forming its story. Craig dives and shoots without scuba gear or a wetsuit. After many daily dives in the freezing cold waters of the South African coast, he adapted his body to cope with the cold and even started to crave the cold. Pippa had a similar background of training her body to get used to the cold and joined Craig with filming in no wetsuits or scuba gear. This gave Pippa the opportunity to fully immerse herself in the experience the whole time she was directing and editing the film. Got to love us free divers. What really took Pippa's direction a step further was being trained by Craig to be able to track octopus just as Craig taught himself. This allowed her to find the subject herself if she needed to in order to maximize the shooting time out at sea. You have to imagine the toll a project like this can take on someone, so being able to trade off on the documentation of a subject is crucial. Most of the time though, it was just Craig out on his own. Prior to Pippa's involvement, he wasn't even planning on making this a feature film.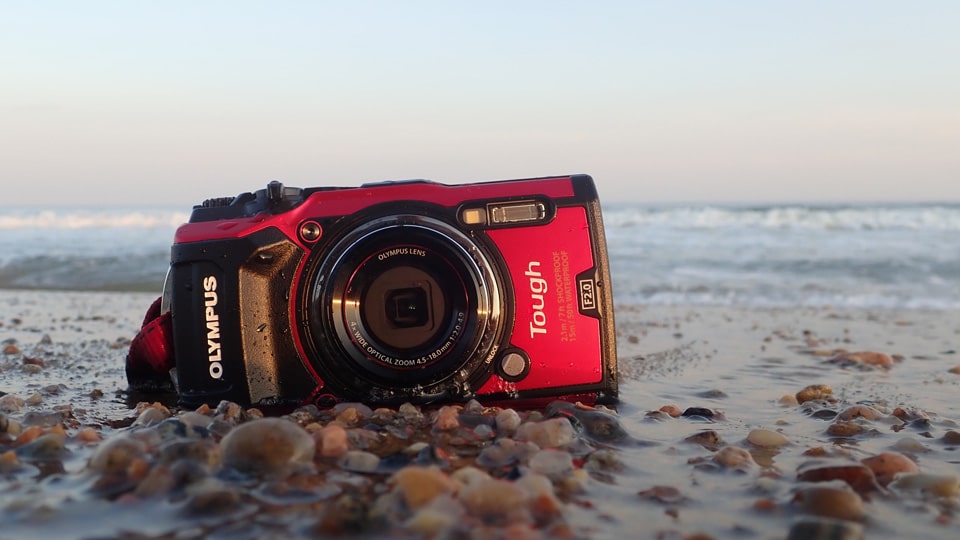 It looks like the camera that Craig personally used to film the POV interactions with the octopus was the Olympus Tough TG-6 Digital paired with a couple of lenses. One of which he apparently drops and scares the octopus away for a week. This camera looks amazing for a water proof camera that doesn't requiring housing like the Reds, but shoots in 4k. It's consistently ranked as the number one underwater camera on multiple forums. It makes sense that Craig would use a camera like this because of it's ability to take a beating. This durability definitely came in handy when the octopus would play with the camera and knock it over into the sand. As such a diverse camera with impressive versatility, I can't wait to get my hands on one of these and test it out in the water.
Maybe I'm biased that I loved this film so much, but it has further solidified my desires to become PADI certified as an underwater filmmaker. In time, maybe I'll find my own exotic world to capture and make my own personal underwater journey into a documentary. Until then, I'll continue to be inspired by wonderful pictures such as this.
---
Sources: